Handy Electrician is an electrical contractor located in Atlanta, GA. The mission of the company is to deliver the highest quality residential, commercial and industrial electrical services while providing incomparable customer service. Handy Electrician's primary goal is to meet and exceed your expectations in electrical repair, thereby making you another one of our satisfied customers. The company is Veteran owned and operated, which allows us to have a more personal relationship with each customer without the bureaucracy present in other electrical companies. Our electrical work is 100% satisfaction guaranteed, we are committed to providing solid expertise, highly skilled workmanship and providing you the best electrical services in Atlanta. We are licensed, bonded and insured in the State of Georgia.
For years, we have provided top-notch service, satisfying hundreds of customers. Handy Electrician celebrates the kind of excellence exemplified by people like you — our customers!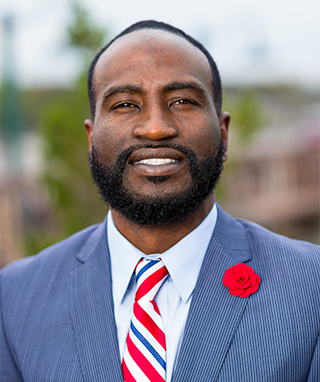 Percy Hampton, Owner and Master Electrician
Percy has over 20 years of electrical experience. He began his career upon entering the United States Navy where he served for six years as a gas turbine electrician. Percy was responsible for the shipboard electrical services on the vessel. Upon returning to civilian life, Percy worked for various general contractors gaining real world electrical experience. With his vast knowledge, he moved into the managerial role and has acted as a electrical foreman on many multi-million dollar projects and expansions. He later secured a position as a contracting electrician for The Centers for Disease Control and Prevention. There he gained additional experience in facilities and generator maintenance. His next opportunity was at Emory University's main campus as a Senior Electrician. He successfully managed the University's facilities, generators and performed other electrical repairs. After perfecting his skills and successfully running a small electrical firm, Percy Hampton accepted an invitation to be an adjunct professor at Athens Technical College for the Electrical Systems Technology Program. He taught the second year electrical trade students new technology on wiring requirements and safety precautions.
Percy received his electrical education at The Independent Electrical Contractors (IEC) apprentice program. He received his unrestricted electrical license in 2005, which required four years of electrical training and passing the Georgia electrical exam.
We offer residential, commercial, and industrial electrical services in metro Atlanta. We also offer electrical wiring services for medical and dental offices.  Handy Electrician is certified by Eaton Corporation as an electrical service contractor to install and repair Electric Charging Stations. We also offer electrical wiring and repair services for the healthcare, retail and restaurant industries. Handy Electrician is equipped to complete your new and existing electrical projects in a timely and professional manner. Contact us to schedule an appointment for a customized quote or if you are having immediate electrical problems we can set up a service visit. We will be happy to offer you the correct solution and also provide you with valuable electrical feedback on energy efficiency, lighting design and other possible upgrades.
BELOW IS A LIST OF SERVICES WE PROVIDE FOR EACH MARKET:
24-hour emergency electrical service
Installing dimming systems
Electric car charging station installation
Electric circuit testing
Grounding residences
Home electrical inspections
Indoor and outdoor accent and security lighting
Installation of UPS/generator systems
Preventive maintenance on electrical panels
Rewiring and remodeling
Storm damage repair
Surge protection systems
Smoke detectors
Troubleshooting repair issues
Preventive maintenance on switchgear and panels
Rewiring and remodeling
Smoke detectors
Storm damage repairs
Surge protection systems
Thermal scanning
Transformer repair and maintenance
Thermal Imaging
Dimming systems
Electric vehicle charging station installation
Electric circuit testing
Electrical inspections
Energy and lighting audits
Grounding
Indoor and outdoor lighting maintenance
Installation of UPS/generator systems
Lamp and ballast program
New construction
Electric Circuit Testing
High Voltage Cabling and Termination
Indoor and Outdoor Lighting Maintenance
Lighting and Energy Audits
Surge Protection Systems
New Construction
Preventive Maintenance on Switchgear and Panels
Transformer Maintenance & Repair
Troubleshooting Specialist
Installation of UPS/ Generator Systems
Thermal Scanning
Lamp and Ballast Program Available
Contact Handy Electrician
Call us today at 678.873.5674 for a quote on our numerous electrical contracting services for all your residential, commercial, or industrial wiring needs. You will be contacted immediately and treated in a courteous, professional manner.